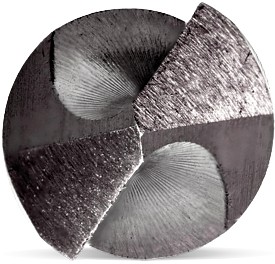 Drill diameter: Ø1.0mm
Packaging: Carded 2
Point: 135° split point
Drill bit: HSS (Hi-speed steel)
Application:
The drill bit is made from HSS (hi-speed steel) and is precision fully ground at 135° with a split point. The drill bit can be
used to drill materials such as iron, steel, non-ferrous metals and plastics.
Advantages:
Standard HSS 118° angle point drill bits are designed as an all purpose drill bit and it will cut most materials.
Industrial HSS 135° angle point drill bits are designed to cut metal. The split point adds 2 extra cutting edges with the advantage of reducing
the amount of pressure required to perform the cut.
Sharpening:
The drill bits are re-sharpenable several times. We recommend the following machines as it will sharpen 135° HSS split point drill bits with ease:
Great Value!

15% VAT included in all prices.
Delivery in Walvis Bay and Swakopmund is Free of Charge.
Delivery charges are not included to areas outside of Walvis Bay, Namibia.

Quotation are only valid for 7 Days.
Submit your Article!
If you would like to submit industry related articles on our website, please make contact with us.
*Please Note!! Many of our pictures are stock photos provided to us by the manufacturer and do not necessarily represent the actual item being purchased. Please verify this picture
accurately reflects the product described by the title and description on this page before you place your order.